Atlanta's Top-Rated Bathroom Remodeling Services
An upgraded bathroom not only makes life more comfortable for your family, but it also increases the value of your home. A bathroom remodel can include installing new features, updating the overall design, and addressing any structural issues in the plumbing as well.
There are many reasons why you might need a bathroom remodel. You could have a new design in mind or perhaps the current set up is worn out and in need of serious maintenance.
Our professionals offer complete bathroom remodeling services at competitive prices. Our bathroom professionals have completed various projects, including small bathroom remodeling and master bathroom remodels. They provide professional bathroom contractors who follow all code and regulations while working on your bathroom remodel project. They also prepare a plan and proceed with each activity accordingly.
Not only will They bring the bathroom makeover you envision to life, we'll also make sure to address any underlying structural issues, such as leaky pipes and fixtures. Fill out the online form to get started, we'll send over a local quote as soon as possible.
What does a bathroom remodel involve?
Our team strives to make a bathroom remodel as smooth as possible for you. There are a lot of moving parts you should be aware of, however, so you understand everything that is involved in the process.
Typical course of action our team takes when remodeling a bathroom in Atlanta:
Planning
As professional bathroom remodeling service providers, they plan the entire process before stepping into your bathroom. This means starting by understanding your vision, budget, and acquiring any other information they will need throughout the process.
Demolishing Old Bathroom
One the plan is approved, they begin to demolish the old bathroom and prepare the space to begin the bathroom remodeling work.
Fixing Plumbing and Electrical Work
Our experts will check for leakages in the pipeline. After that, they will fix the pipeline's closing and adjust the electrical accessories, including lighting and exhaust fan.
Add Grab Bars
If needed, our technicians will install grab bars or caddies, which make the space more accessible for those that might need a bit of support.
Finish the Wall
After installing any necessary grab bars, we'll complete the wall work, including painting, adding wallpaper, and other add-ons you want.
Place Tiles
When they place tiles in the bathroom, you will not be able to access it for at least an hour while the tiles set in.
Install Shower Door
The final step of the bathroom remodel is installing the shower door.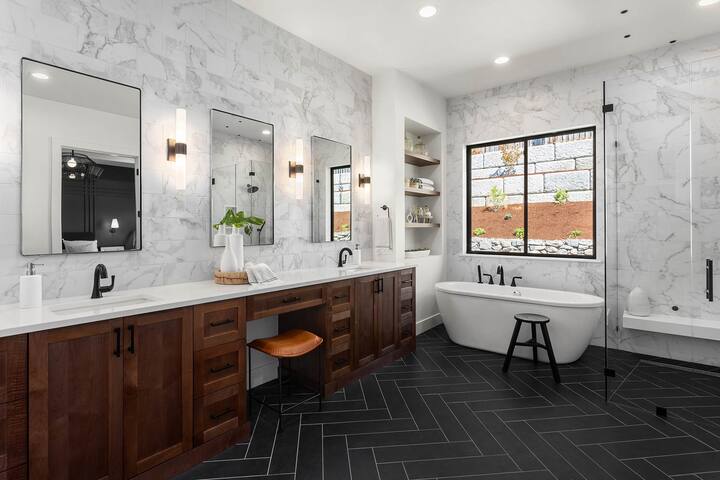 Popular Bathroom Remodel Topics:
Get in Touch With Us
We're excited to hear from you about your bathroom remodeling needs. No bathroom remodel in Atlanta is too big or too small for our experienced team!
Bathroom Tile Work
When it comes to bathroom tiles, you have options. Not only are there a plethora of designs to choose from, the sizing is also important as well as the material. Let's get into the details below.
Porcelain Tiles
If you are looking for maximum durability, go for porcelain tiles. They last long in bathrooms despite being exposed to water because of their high water-resistant capability. Although porcelain is a bit expensive, its beauty compliments its sturdiness.
Ceramic Tiles
Ceramic tiles are close to porcelain if you consider their manufacturing, but they are less water-resistant. Putting ceramic tiles in your bathroom enables you to add the same tiles on the walls, creating a beautiful symmetrical pattern.
Mosaic Tiles
Mosaic tiles are made of different materials, specifically glass, ceramic, and marble. They are in high demand for bathroom renovation as you can create multiple designs by randomly selecting the tiles.
Marble Tiles
Invest in marble tiles if you want to give your bathroom a luxurious touch. Marble tiles are sleek in design and display a beautiful texture throughout your bathroom.
Toilet Installation
Your toilet is arguably one of the most important seats in the house! Over time, toilets can wear due to use, so it's always a good idea to include a new toilet installation as part of your bathroom remodel.
Our toilet installation experts suggest you consider a toilet replacement when:
The toilet is over 20 years old.
The toilet doesn't drain properly when flushed.
You want to save water.
The toilet bowl is cracked.
You want a new look.
A new toilet can end up saving you hundreds of dollars in the long run, by requiring less maintenance and saving more water with each flush.
Making a Bathroom Accessible for Disabled
You're probably wondering how to make your bathroom more accessible if you have elderly or physically disabled people in your house. These people may need additional support entering a bathroom. Moreover, they also look for things to hold on to inside the bathroom.
You can add the following accessibility fixtures in your bathroom:
Walk-In Tubs: These tubs provide easy entry and exit to the bathtub with a small swinging door. Those with physical disabilities can easily enter the bathtub as there are no high barriers.
Roll-In Showers

: People living with physical impairments can't use bathtubs easily. Therefore, roll-in showers allow them to bathe independently. The shower area must be spacious enough to accommodate a wheelchair.

Customized Toilet Seats

: You can install customized toilet seats according to the physically challenged or elderly people in your home. The customization refers to adjusting the seat's height and fitting additional steps to sit on the toilet seat.
Bathroom Remodeling Ideas
Bathroom remodeling is an investment and has many advantages. For example, the value of your home will most likely go up when you complete a bathroom remodel. A renovation can also improve the quality of life for those inside the home.
Who doesn't love a good makeover? When it comes to such an important room as your bathroom, there are many ideas and examples to use as inspiration. So, here are some factors you can consider:
Start with the primary plumbing repair work before spending money on bathroom aesthetics.
Go for real-stone tiles, which are less expensive and give a naturally beautiful display.
For the master bathroom remodel, upgrade the vanity, drawers, and knobs to enhance the interior.
For small bathroom remodeling, you can spend a few bucks on paint. Always choose high-quality paint with a waterproof coating.
Consider adding a wet room to make your bathroom classy.
Replace lighting and exhaust fans with simple yet elegant accessories.
Bathroom Remodeling
Everyone wants a good-looking bathroom with high-quality fixtures without spending much money. Bathroom remodeling is usually expensive because it involves a lot of work, such as plumbing, demolishing, installation, painting, etc. However, you can save money if you plan your bathroom remodeling beforehand.
Our professionals serve you from the bathroom remodeling planning to the closure phase. They never follow a random approach. Instead, they make a plan according to your vision and budget. Doing so allows you to go through our planning and invest only in that area where needed.
Our experts are aware of trendy bathroom styles. They will inspect your bathroom before beginning the remodeling work and suggest a few suitable installation options. You can also decide on your own, and our professionals will tell you whether it's feasible.
Get in touch with our team today!