Our Atlanta Shower and Bathtub Installation Services
Your shower and bathtub suffer the most damage and leakages. If you don't maintain them, water can seep through the bathroom walls and damage everything behind the wall. As a result, you might have to reconstruct your bathroom, which is no small feat.
You also shouldn't use your bathroom if it has several leakages as it's dangerous. You can fall near the shower or bathtub due to a slippery floor caused by leakage. Falling near a bathtub can cause serious injury.
That's why our pros offer complete shower installation and bathtub installation services. They install showers, shower doors, bathtubs, and other bathroom accessories.
Our shower door installation experts take accurate measurements of the shower area and give you suggestions accordingly. Call us now to get started right away.
Things You Must Know Before a Shower or Bathtub Installation
Showers and bathtubs have become a bathroom necessity. People either want a shower or a bathtub or sometimes both in their bathrooms. However, you must know a few things when considering a shower or bathtub installation.
A bathtub and/or shower installation consists of the following:
Measurement: Taking accurate measurements is important to fix the shower and bathtub. The pipelines ending at the wall opening decide where the faucets will be placed. Other details to consider are the height, for example, to ensure anyone can comfortably fit.
Material: Showers and bathtubs come in different materials, for example, metallic showers and marbled bathtubs. You must choose a durable material for both that compliments the surrounding walls.
Design: Bathtub and shower designs are also of different types. However, you should always choose a design that complements with other bathroom fixtures.
Warranty: Select bathtubs and showers with a warranty of at least one year. That way, you will get a long-lasting product for your bathroom.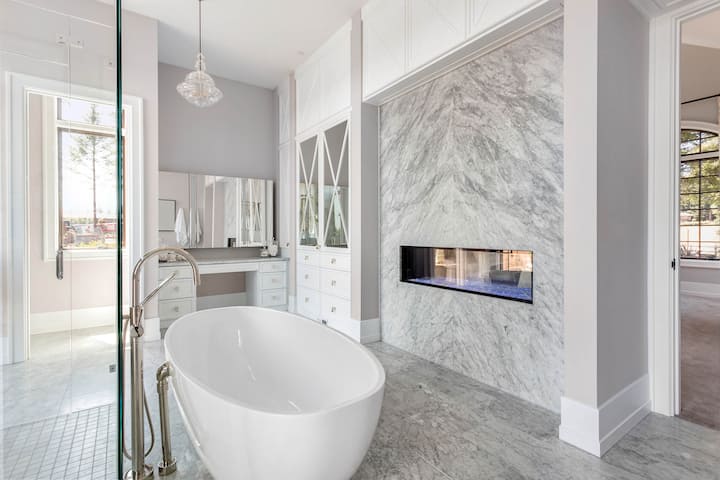 Get in Touch With Us
Let's chat about a professional bathtub or shower update for your Atlanta home. We're excited for the chance to work with you!
Installing a Walk-In Shower
A walk-in shower has become a trend as it's a separate section in the bathroom. The following are the steps our technicians take to install the shower.
Take Measurements
First, our team takes the correct measurements of the area where the shower will be. After analyzing the area and measuring every inch, our experts will recommend the best shower type for your bathroom.
Our team is equipped with advanced shower measuring tools, so you don't have to worry about any miscalculations.
Choose Fixtures
You should choose the fixtures that come with a walk-in shower, including the door. They also offer shower door installation service and will install the door you desire.
Demolish Old Shower
After that, we'll demolish the old shower and remove the debris to clean the area.
Place Tiles and Wall
Our professionals will place the tiles, shower tray, and shower wall in the area.
Install Shower and Faucets
Lastly, our shower experts will install the shower and fix the faucets.
Bathtub Replacements
Your bathtub needs a replacement if it has lost its enamel and has fissures. Not only does that make a bathtub unattractive, it can also start malfunctioning and become a source of leakage. That's why you must consider a professional bathtub replacement.
Our expert bathtub installers will take care of your bathtub replacement needs, no matter how extensive of a renovation is required. Our strength is in the design and structural setup of your bathroom, all at reasonable pricing. Our work method follows a framework, which consists of taking measurements, fixing any leakage, and replacing the bathtub.
They value your opinion and consider your vision as they go through the process. They source our materials from reliable suppliers so you can rest assured that you will get quality. So, reach out to our team and let us know how they can help! They provide local quotes at competitive rates.
Tub-to-Shower Bathroom Conversion
Bathtubs and showers have their unique advantages. For example, bathtubs offer you a serene experience of immersing your body in the water. On the other hand, showers allow you to quickly turn on the water, wash, and leave the space without consuming much water. Depending on these benefits, people have different preferences. However, you can convert your bathtub into an overhead or vice versa anytime you want.
Our pros offer top-level tub-to-shower bathroom conversion in Atlanta. Our service is 100% customized, which means you can choose any type of bathtub or shower design and they will bring it to life. The customization includes shower doors, faucets, nozzles, pipes, drainage trays, and caddies.
Our bathtub installers will guide you on quality options during the process. They also ensure that you will not need frequent maintenance as our choice of showers and bathtubs are highly durable.
Grab Bars/Caddies and Other Factors That Make Handicap Accessible
Although bathrooms are meant to be peaceful place to relax, they can be hazardous for the physically challenged and elderly. There've been a lot of accidents because of a slippery bathroom floor where people who couldn't properly walk slipped and got severely injured.
That's why you should take several steps to make your bathroom more accessible for the handicapped and those with mobility issues, our focus is to upgrade your bathroom from every angle, including accessibility. Since bathrooms are commonplace and everyone needs to use them, they offer multiple solutions to make them more accessible for all.
Here are some of our offerings:
Grab Bars: People can grab these bars for additional support while using the bathroom.
Railings

: People who can't walk without support can hold on to these railings and take slower steps.

No-Slip Flooring

: Vinyl or interlocking rubber flooring makes the bathroom floor anti-slip.
Our bathroom accessibility products are high quality, and you can easily rely on them due to their high durability.
Shower Installation and Bathtub Installation
One of the most important factors of bathroom remodeling is a shower installation or bathtub installation. These important aspects must be installed carefully and precisely to avoid future leaks. Many times, people hire unprofessional bathroom workers who can worsen the situation. Although they install the required shower and bathtub, you may later face leakage problems due to poor-quality work.
That's why you should consider our network, which has been in the industry for many years. Our bathroom remodeling experts in Atlanta are professionally trained and have years of experience under their belt. Our team begins with analyzing the situation and then plan each step of the installation accordingly. They are transparent on pricing and fees and always aim to give you the best rate possible.
Not only do our pros install showers and bathtubs, but they also set up accessibility features such as grab bars and caddies for those who need extra support. Our technicians are highly experienced, so you can rest assured that our work is ensured. Call now to get started with a quote.